¿Cómo recuperar datos de su iPhone?
Existen muchos casos en que datos en su iPhone pueden ser perdidos o eliminados accidentalmente. Como en actualizaciones de sistema o procedimiento de Jailbreak. Cuando usted pierda sus datos, puede verificar en el iTunes si estos todavía pueden ser recuperados por la copia de seguridad.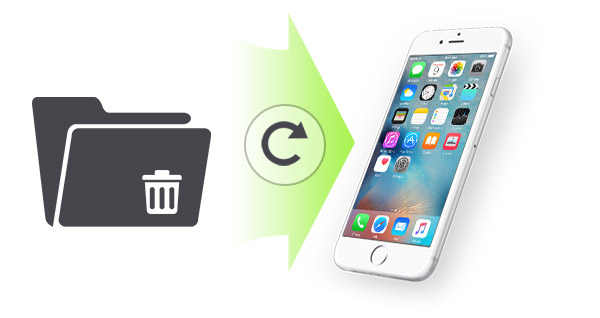 Si no es posible, no se desespere. Los datos perdidos todavía pueden ser recuperados, a través de un poderoso programa de recuperación de datos, que trae de vuelta sus contactos, fotos, videos, mensajes y más.
Recuperar archivos eliminados del iPhone con un programa para recuperar datos
Para esta recuperación, usted usará el Aiseesoft FoneLab, que recupera casi todos los tipos de datos perdidos/eliminados de su dispositivo iOs en apenas algunos pasos. Primero, descárguelo e instálelo en su PC o Mac.
Paso 1: Analice su iPhone
Ejecute este programa excelente de recuperación de datos y conecte su iPhone al PC / Mac con el cable USB. Este va a reconocer automáticamente su dispositivo. Seleccione el modo de recuperación "Recuperar a partir de dispositivo iOS" y haga clic en el botón "Iniciar Análisis" para analizar.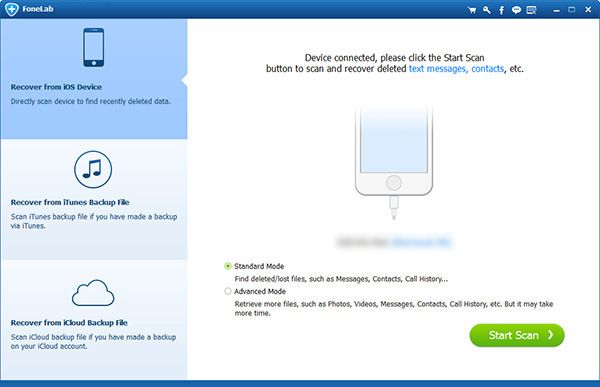 Paso 2: Seleccione los datos para recuperar
Después de un tiempo, usted puede ver todos los tipos de datos de su iPhone en categorías y exhibidos en la interfaz del programa. Si quiere recuperar contactos, por ejemplo, haga clic en "Contactos" en la izquierda y los contactos perdidos/eliminados serán mostrados en la interfaz. Puede selecionarlos uno a uno o todos de una vez.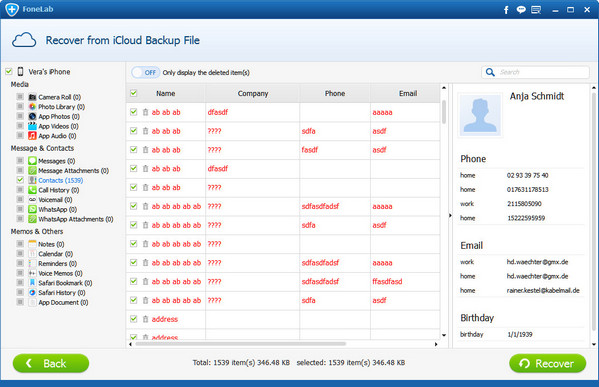 Paso 3: Seleccione la carpeta destino y comience a restaurar
Todos los preparativos fueron hechos; usted puede comenzar la recuperación inmediatamente haciendo clic en el botón "Recuperar". Al hacer clic, seleccione la carpeta de archivo de destino para guardar los datos recuperados. Just a few seconds, all selected contacts will be recovered to your computer. En algunos segundos, sus archivos serán guardados como archivos CSV/HTML/VCF separadamente.
Con este procedimento, usted también puede restaurar favoritos del Safari, fotos, canciones, videos, historial de llamadas, mensajes de SMS, etc.
Le ha gustado el artículo? ¿Tiene alguna duda o sugerencia? Deje su comentario abajo.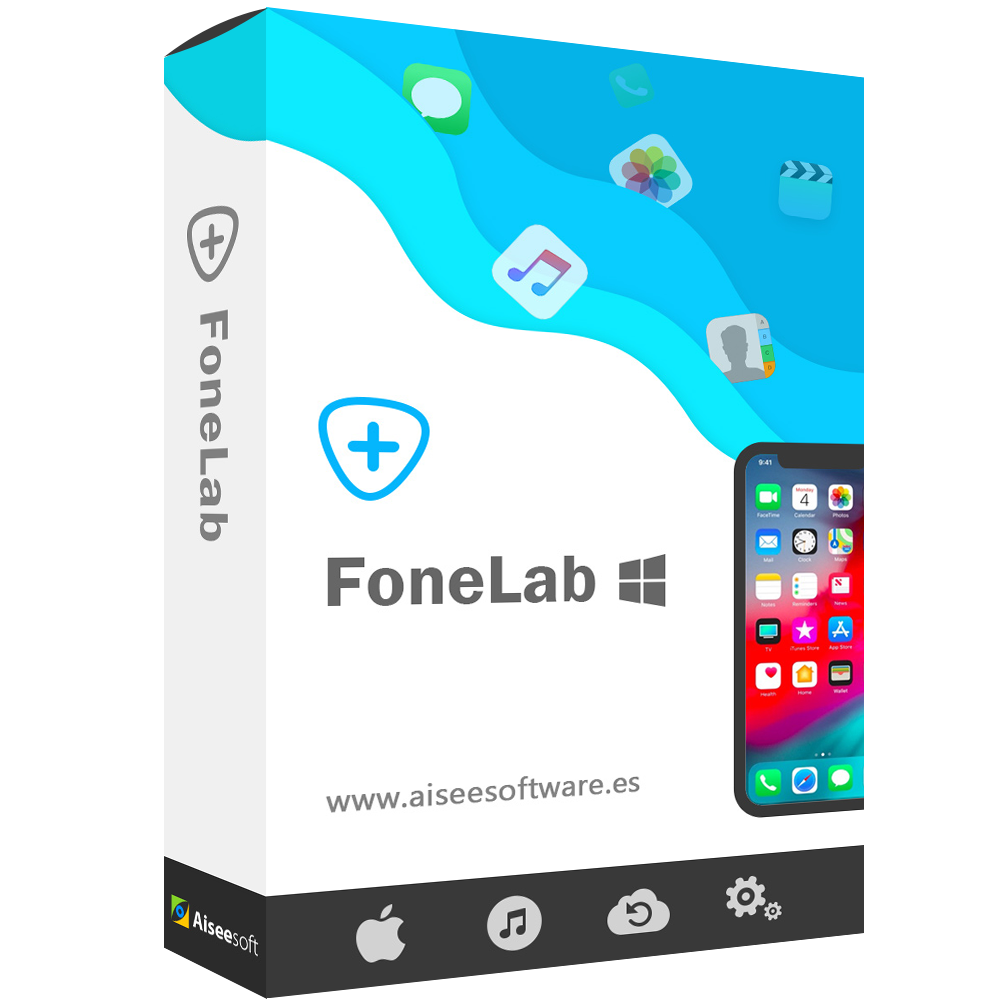 Recupera archivos perdidos de iPhone, iPad y iPod

Restaura datos desde copia de seguridad de iTunes y iCloud

Compatible con los dispositivos iOS más recientes
Versión de prueba

Descargar Win
Versión de prueba

Descargar Mac